Here at Brothers Kebab, we care about customers and love it every time
we receive awesome feedback about our new launches.
We care about food education, too!
So here's an origin story about
our Kushari and why try mixed
rice and lentil dish.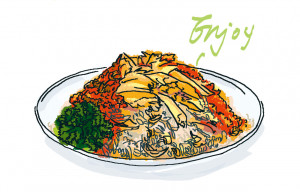 Kushari is an Egyptian dish originally made in the 19th century, made of rice, macaroni and lentils mixed together, topped with a spiced tomato sauce, and garlic vinegar; garnished with chickpeas and crispy fried onions. A sprinkling of garlic juice, or garlic vinegar and hot sauce are optional.
Stop in at Brothers Kebab for a mix of rice, pasta and lentils, topped with a homemade tomato sauce and your choice of grilled meat and crispy onions for ¥42.
Pair it with one of our sauces! We recommend garlic mayo or tzatziki.