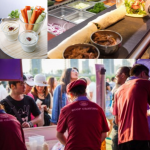 "Need catering for your party, event or simply for lunch at your office? Brothers Kebab provides catering for both big and small events". We bring the equipment, fresh vegetables, our homemade sauces, meat rolls made from high quality halal certified imported meat and last but not least members of our friendly and experienced team. We recommend that you let us prepare the food onsite to give your guests the full experience. However, we can also deliver ready made food from any of our shops to your private party, business event or just a working lunch. Please contact us for more details.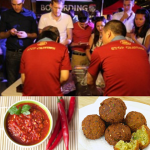 JINGAN
310 Fengxian Road (near Shanxi North Road)
Tel: +86 (21) 5265 5177
HUANGPU
389 West Nanjing Road(Near Huangpi North Road) Tomorrow Square B1
Tel: +86 (21) 6313 1077
CHANGNING-GUBEI
C1, Carrefour, 268 South Shuicheng Road
Tel: +86 (21) 6483 5077
JINGAN-JULU
1F-B1, Building 1, 758 Julu Road(near Fumin Road)
Tel: +86 (21) 6266 8971
CHANGNING
117 Zunyi Road (near Ziyun Road)
Tel: +86 (21) 5235 7077
PUDONG
N1-23, 1st Floor, New Land Plaza 528 North Nanquan Road (near Shangcheng Road)
Tel: +86 (21) 5836 8277
XUHUI
C108, B1, Magnolia Plaza,555 West Huaihai Road
Tel: +86 136 6145 4215
Brothers Kebab came to life in 2013 when a couple of good friends from Denmark finally gave in to their own kebab craving and opened a small shop in Changle Lu. We now have multiple locations across the city and there is more to come.
INTEGRITY
Our philosophy is simple, be it in our personal lives or in business - we put integrity first in everything we do. We find a great sense of purpose in serving a quality meal with a smile at a very reasonable price. That's it!
Integrity

 is what you 

do

 when 

no one is watching

; it's doing the 

right thing

 all the time. 

Integrity

 is keeping your word!
All our food is made from scratch with fresh high quality ingredients. It's all about great food that we can't stop craving ourselves. 
FRESH - FAST - JUST GOOD
MEAT ROLLS are made from high quality imported halal certified meat. We cut and marinade the meat ourselves before carefully building the rolls by hand. This ensures that you get the same great taste every time no matter what store you visit.
Falafel and hummus is made inhouse from scratch with quality chickpeas and other fresh ingredients. The same goes for our tzatziki and sauces. To give you an example we even make our own mayonnaise from scratch to ensure a great and consistent taste. For the garlic mayo we pack it with fresh garlic to get a proper kick. Try it with our imported super crispy french fries...
STOP CRAVING!!