Hey Brothers Kebab fans, it's getting chilly, and you know what that means… It's time to eat some lamb!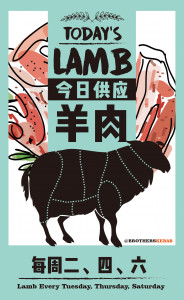 Our lamb kebabs are on every Tuesday, Thursday and Saturday
so plan ahead and stop in for a juicy Doner Wrap ¥40 with hefty shavings of lamb meat drizzled over with your favorite sauce. 
Even better, Brothers Kebab is doing an awesome Lamb Doner Wrap deal!
Lamb Doner Wraps   buy 1 get 50% off 2nd   every Tuesday for the whole month of December at any of our stores.