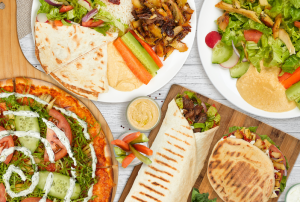 Our philosophy is simple, be it in our personal lives or in business – we put integrity first in everything we do.
So when someone asked us what we loved most about our lamb kebabs, we had a lot to say! But if we had to choose, here are 3 things we love about our lamb kebab:
#1 It's Freshly Made
At Brothers Kebab, we assure a quality product by making everything from scratch! We may not raise the lambs, but we prepare the lamb rolls ourselves with only the best ingredients for great taste and safety of our customers. The lamb meat is marinated the night before to soak in the flavors before we sent it out to slow roast on the kebab.
#2 It's Flavor Packed
And because we use a very tasty (very secret) house marinade and seasoning, it's undoubtedly one of the tastiest lamb kebabs in town! Plus, it's slow grilled, keeping the meat juicy and flavorful. And it goes with any one of our sauces.
#3 It's Versatile
Another thing we love about our lamb kebab is that you can get the flavorful meat at any Brothers Kebab store. And have it served FIVE different ways! You can get it in a Doner Wrap or in a Pita, both for only ¥40! You can get it as a Pizza for ¥65, a Kebab Plate with rice for ¥50 or in a salad for ¥42! Plus, it's certified Halal.